Robin and Sarah's Cescaphe VIE wedding in Philadelphia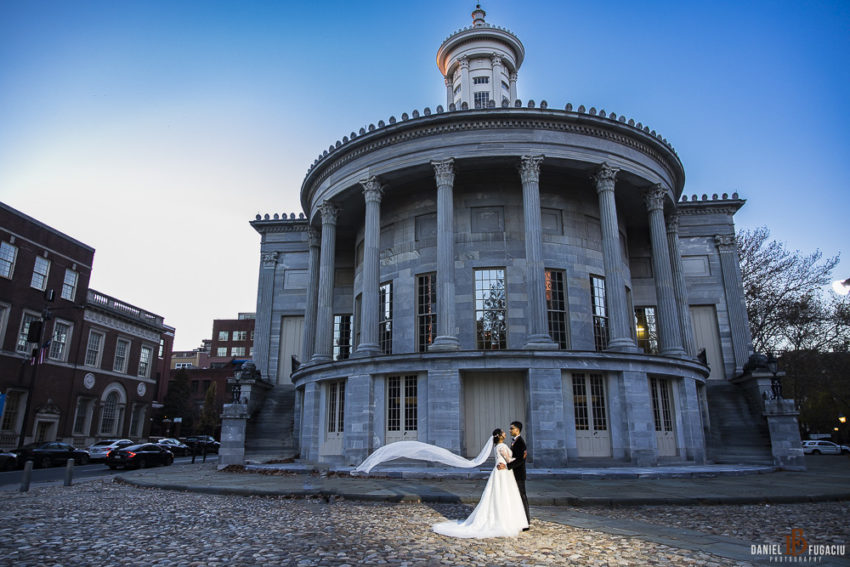 Robin and Sarah celebrated their Indian wedding at Cescaphe VIE on a beautiful day in Philadelphia. Sarah wore a beautifully done henna on her hands and feet. The couple exchanged vows in an orthodox church ceremony dressed in traditional Indian sari attire, surrounded by their family and friends. The ceremony featured traditional Indian rituals such as the lighting of the sacred fire and the exchange of garlands. As the couple exchanged vows, guests showered them with flower petals, symbolizing their love and blessings.
The lavish reception took place in the grand ballroom of Cescaphe VIE, which was beautifully decorated with colorful flowers and ornate centerpieces, setting the perfect ambiance for the celebration. The couple made a grand entrance to the reception, dancing to the beats of a dhol player. They then took to the dance floor for their first dance as husband and wife, a moment filled with love and emotions. Throughout the night, guests enjoyed delicious Indian cuisine, including traditional dishes like chicken tikka masala and samosas. The couple's cake was adorned with beautiful and intricate Indian designs and decorations. The night was filled with music, dance performances, laughter, and joy as the couple celebrated their love and commitment to each other. Robin and Sarah will cherish this truly unforgettable Indian wedding for a lifetime.
Vie by Cescaphe is an exquisite wedding venue situated in the heart of Philadelphia. This opulent space offers everything necessary to create the wedding of your dreams, from stylish ballrooms and delectable cuisine to professional event planning and unparalleled service. The venue boasts various beautiful ballrooms, each with its distinct charm. The Grand Ballroom features crystal chandeliers, an impressive fireplace, and adequate space to accommodate up to 350 guests. The Vie Ballroom, on the other hand, is a modern and fashionable space with panoramic windows, a contemporary chandelier, and room for up to 250 guests. Regardless of the ballroom chosen, a private suite for the wedding party is available to get ready before the big day. This luxurious space features comfortable seating, a small kitchenette, and numerous mirrors and lighting to ensure you look your best. Of course, a wedding would be incomplete without delicious food and beverages, and Vie by Cescaphe certainly does not disappoint in this aspect. Their experienced in-house catering team will collaborate with you to create a customized menu featuring a wide range of gourmet dishes, including options for those with dietary restrictions. Finally, the professional event planners at Vie by Cescaphe will work with you throughout the process to ensure your wedding day is everything you have ever envisioned. From selecting the perfect decorations and lighting to coordinating with vendors and creating a timeline for the day, they will handle every detail so that you can relax and enjoy your special day. Overall, Vie by Cescaphe is a remarkable wedding venue that is ideal for couples searching for luxury, sophistication, and an unforgettable wedding day experience.
Comments
comments