Engagement photos at Boat House Row | Dee & Aja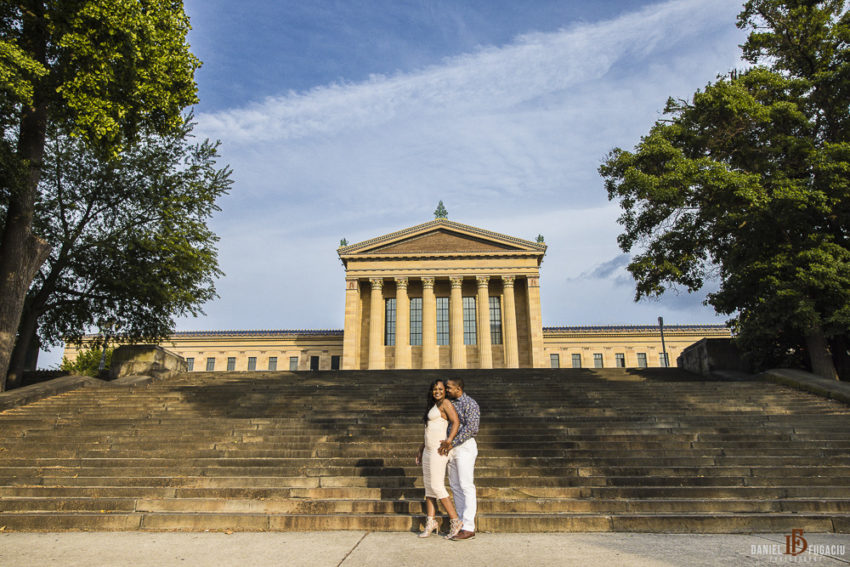 Love is a beautiful journey that often brings unexpected surprises and joy into our lives. Such is the case with Dee and Aja, a couple whose whirlwind romance has captivated the hearts of their friends and family. Recently, the couple decided to celebrate their love with stunning engagement photos at Boat House Row, taking advantage of the breathtaking scenery of the Art Museum in Philadelphia. Let's embark on a visual journey as we explore the memorable moments of their love story.
A Picture-Perfect Love Story:
Dee and Aja's unique love story has blossomed without knowing any boundaries. Their engagement photo shoot was an opportunity to document their love in the city that holds a special place in their hearts.
Boat House Row: A Serene Reflection of Love:
The first stop of their engagement photoshoot was at the historic Boat House Row, one of Philadelphia's most iconic locations. As the sun began to set over the Schuylkill River, the couple embraced one another, their love radiating in every frame. The gentle ripples of the water mirrored the tranquility and depth of Dee and Aja's bond, resulting in breathtakingly poetic shots.
The Art Museum: A Museum of Passion and Love:
Symbolizing their shared appreciation for art and culture, Dee and Aja's next destination was the Philadelphia Museum of Art. Standing at the foot of the grand steps immortalized by the Rocky Balboa films, the couple embodied the fearless spirit of love. Against the backdrop of this majestic museum, each click of the camera captured not only their joy but also the promise of an adventurous future together.
A Stylish Union of Tradition and Modernity:
Dee and Aja looked effortlessly stylish throughout the shoot, blending classic elegance with contemporary fashion. Their choice of wardrobe reflected their personalities, showcasing a mix of textures, patterns, and colors that complemented one another beautifully. From sophisticated attire along Boat House Row to a more relaxed and modern look at the Art Museum, their outfits effortlessly conveyed their individual styles while harmonizing as a couple.
Nature's Gift: The Changing Seasons:
The timing of their engagement photoshoot held an added symbolic touch – capturing the beauty of two seasons in one frame. The summer colors at Boat House Row provided a warm and poetic backdrop, while the looming winter at the Art Museum added a serene touch reflective of new beginnings. This merging of seasons seemed to parallel the different chapters Dee and Aja experienced on their journey of love.
Dee and Aja's engagement photoshoot at Boat House Row and the Art Museum was a captivating celebration of their unique love story. The stunning scenery and thoughtful composition of each image perfectly captured their genuine connection and adventurous spirit. As they embark on this new chapter in their lives, their engagement photos will serve as a timeless reminder of the love and joy they shared during this special time.
Ultimately, this photoshoot painted a picture of two souls intertwined, ready to face life's challenges and create an even more extraordinary love story together. Congratulations to Dee and Aja on their engagement, and may their future be filled with everlasting happiness and love!
Comments
comments