Rachel, the owner and lead planner at Creative Eventology, gives us the expert solutions to the 5 biggest mistakes brides make when planning their wedding.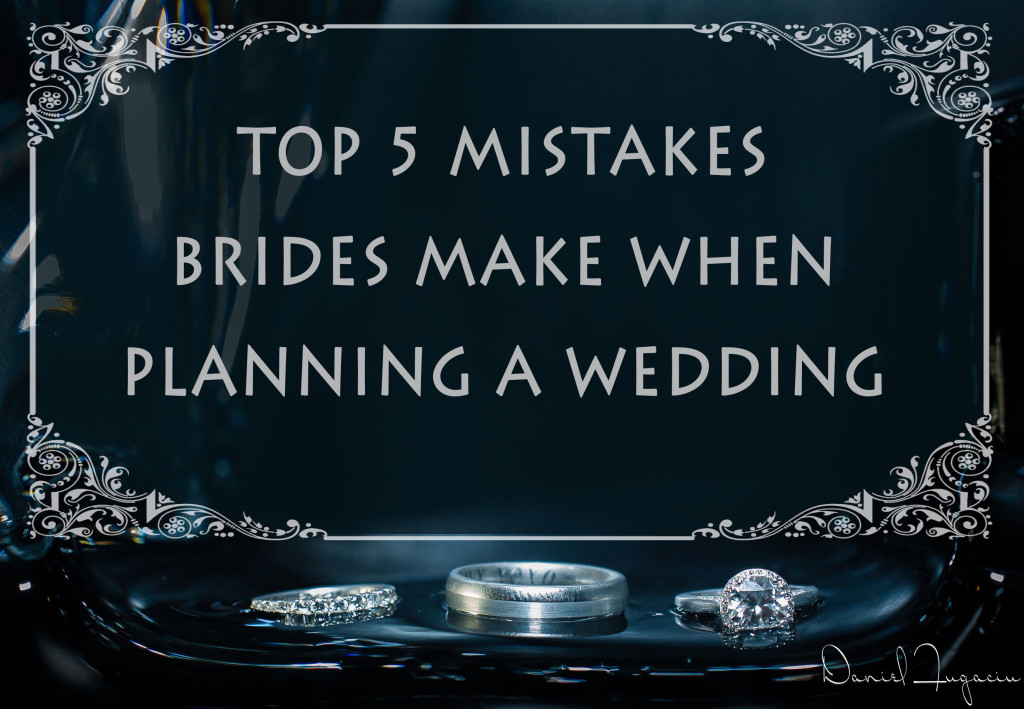 CREATING AN UNREALISTIC TIMELINE (OR NO TIMELINE AT ALL!)
When it comes to planning a wedding, there are a ton of vendors, deliveries, and other details that come into play when creating a day-of timeline. There's a lot to worry about and it's easy to skip over small details or leave yourself in a time crunch. For instance, transportation timelines are a delicate balancing act that requires a lot of attention and padding. Similarly, if you're leaving a gap of time between your ceremony and reception, you can't leave so much time that people will have too much time to kill and arrive too early but you also can't leave so little time that people can't get there on time. Many couples aren't sure how much time to allow for photos, hair, and makeup, or travel time, leaving themselves with completely unrealistic timelines.
SOLUTION:
Hire a Day-Of Coordinator! If you book our Day-Of Coordination package, we will step in about a month before your wedding to take all of the details and tweak them to make everything work. We'll put together a super thorough timeline(in sync with your photographer), accounting for everything from transportation, photos, all your special moments, and even set aside some time for you to breathe (you'll thank us later)!
DIY-ING TOO MUCH
We love those DIY Pinterest projects as much as the next girl, but through your beautiful handmade details have the potential to add the perfect personalized touch to your wedding, sometimes the wrong project can become a stressful disaster. In our experience, some DIY projects are better suited for brides (and a gaggle of friends/bridesmaids) and some are best left to a professional. A general rule of thumb is that anything that is perishable (cake, dessert, food), will take quite a while to create (1,000 origami cranes), or needs to be created/transported on the actual wedding day (bouquets, centerpieces) would be best handled by a professional to avoid stress and minimize the margin of error.
SOLUTION:
Be realistic about what projects your lifestyle will allow you to complete. If you know you tend to procrastinate or have a hard time finishing what you start, let us help you out with our DIY project management or just let us tackle everything for you. We'll take your ideas and bring them to life. And while you might be trying to save money by making your own centerpieces or bouquets, we offer tons of super affordable options that include setup and delivery so you'll have nothing to worry about on your wedding day. We're always happy to schedule a complimentary consultation and chat about all your floral and design visions!
[button link="http://www.danielweddings.com/contact" type="icon" color="red"] Contact us![/button]
CREATING (AND STICKING TO) A REALISTIC BUDGET
If you've never planned a wedding before, it's unlikely you're familiar with all of the expenses and other 'hidden' or easy-to-overlook fees that need to be accounted for in your budget (think postage, alterations, hidden catering fees, and maybe even some lunch!). It's also quite possible that you have no idea what to expect to pay for professional wedding vendors in the Philadelphia area, which makes it really hard to create a realistic budget! While popular sites like Wedding Wire offer budget help, costs can vary quite widely depending on the specific location, details, and style of your event so we always recommend working with a professional to get you a realistic budget set up that you can stick to throughout your planning.
SOLUTION:
Extensive help with budgeting is always included in our Full-Service planning packages. It's the first thing we do, as it sets the tone for each and every item and vendor that becomes a part of your wedding day.
Beyond our Full-Service package, we also offer several A La Carte Packages that can include help getting started and setting up your budget as well as document packages that include our Budget Spreadsheet to help keep you organized and on top of your expenses.
USING FRIENDS WHO AREN'T PROFESSIONALS AS WEDDING VENDORS (OR JUST USING BAD VENDORS)
Over the years we've had quite a few couples that we've worked with where, in an effort to save some money, they have asked their friends to work their wedding as a vendor. Using cousin Harry as your photographer because he owns a DSLR or Uncle Joe as your DJ because he did it in college may sound harmless, but it can quickly turn into a stressful and unorganized situation.
From a planner's standpoint, 'friendors' are tough to work with for many reasons. First of all, because they are not a professional with a business they can be incredibly hard to contact and confirm services, especially because there are not usually contracts with details and expectations laid out. This can cause a lot of confusion.
Secondly, there is so much more expertise that goes into being a great DJ, photographer, florist, etc. that can only be gained through experience. Friends doing these things on the side or as a hobby just don't usually have the skillset and knowledge of how a wedding day runs to make it a success. This includes things like knowing how to create and work within a wedding day timeline, as a DJ being able to read the crowd and MC in a way that's not awkward, or as a photographer being able to maximize your time and locations for photos as well as knowing how to use lighting and composition to create the best pictures possible.
Lastly, we often find that when your vendors are friends, the line between work and play is easily blurred. Halfway between a DJ and a guest, 'friendors' can tend to have a more casual approach to things, sometimes drinking, dancing, and mingling as a guest. While this may not be an issue for some, we like our vendor teams to be professional and focused on their job at all times so nothing is missed and we know where to find them!
In general, we recommend really thinking about using friends-with-hobbies as vendors for your wedding. It will have a huge impact on how smoothly your day runs and, in the case of photography and videography, can affect deeply the product you're left with for the rest of your life.
SOLUTION:
The best way to avoid this issue is for a couple to hire a wedding planner near the beginning of their planning. We will not only help you create a realistic budget for each category of wedding professional you'll likely need, but will also be able to put you in touch with the best vendors that fit your style and budget early in the planning.
If you're a little further in the planning process or if you're having trouble with one or just a few vendor categories, you can still reap the benefits of our experience using one of our a la carte vendor recommendation packages.
STAYING TRUE TO YOUR VISION 
So let's be honest – weddings can bring out the crazy in people. People offer unsolicited advice at every turn, unabashedly squash your awesome ideas, and even bully you into making decisions you're not 100% sure about. It can be so easy to lose sight of what's really important – celebrating your love and making your day about you and your fiancée! Here is our advice – don't get caught up in what everyone else thinks and don't be afraid to do something never before done. Tradition, schmadition! Throw the rules out the window and do it your way! We promise your day will be so much more special if you stay true to who you are.
SOLUTION:
Work with our event styling team who will help you flesh out your ideas and offer fresh and unique inspiration that you can add to your decor. Our goal is to have every event be as unique as the couple. We'll never tell you that your idea is too crazy or strange and we'll back you up all the way. We believe it's those quirky little details that make an event personal and memorable and we're happy to bring them all to life for you!
Comments
comments