Ridgeland Mansion Wedding | Ambre & William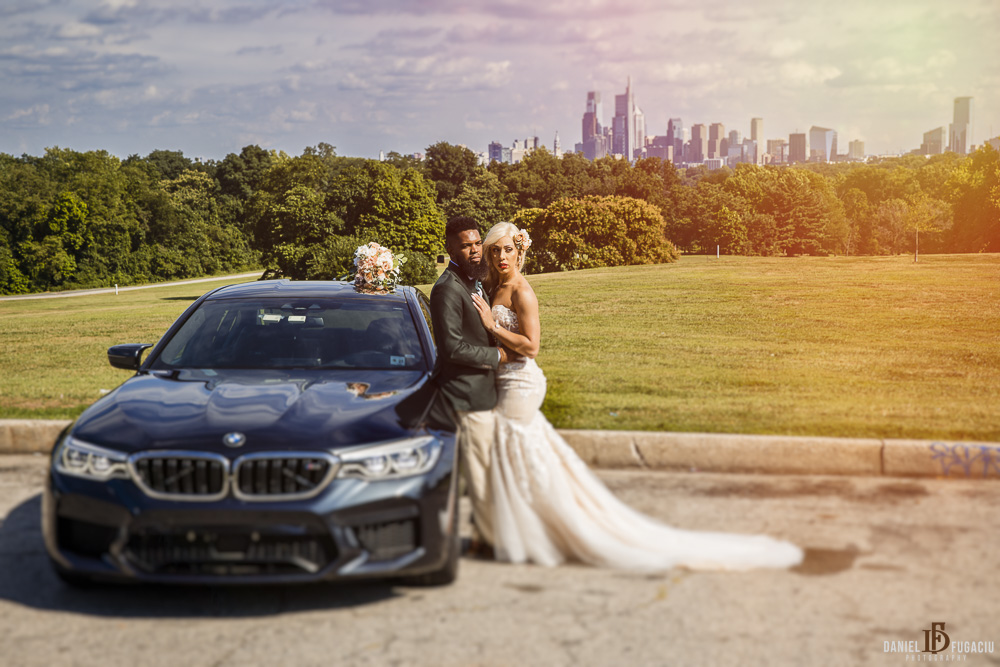 Ridgeland Mansion wedding venue in Philadelphia, PA offers a truly unique wedding experience. The 18th-century Georgian-style mansion is situated on 63 acres of lush grounds, featuring a formal boxwood garden, a terraced lawn, and a pond. The venue itself boasts a grand ballroom with soaring ceilings and intricate details. The estate also has several other indoor and outdoor spaces that can be used for the ceremony and receptions, such as the sunroom, terrace, and gazebo.
With its classic beauty, Ridgeland Mansion provides a stunning backdrop for any wedding and is sure to make your special day truly memorable.

Ambre and William chose wisely where to have their big day celebration, near the scenic views of the city at Belmont Plateau where we featured their sweet BMW M5 with the city skyline as a backdrop.
Tent weddings are becoming increasingly popular for couples who want to create a unique and memorable experience for their special day. They offer the flexibility of being able to customize the space to fit the couple's style and personality, while also allowing the couple to have a wedding outdoors without the worry of unpredictable weather. Tents provide a great way to keep guests comfortable and sheltered, while also creating a beautiful, romantic atmosphere. With a few creative touches and thoughtful planning, a tent wedding can be a stunning and unforgettable event.
Belmont Plateau in Philadelphia is the perfect spot for a wedding photographer to capture beautiful memories. The vast green lawn and nearby trees provide a natural backdrop for stunning photos that are sure to last a lifetime. The rolling hills and breathtaking views of the city skyline provide plenty of opportunities for unique shots. Whether you and your partner want to pose for dramatic photos or capture the candid moments of your special day, Belmont Plateau will provide an ideal setting for your wedding photography. The vast open space, natural light, and the beauty of the landscape make it the perfect place for a wedding photographer to capture the beauty of your special day.
Comments
comments